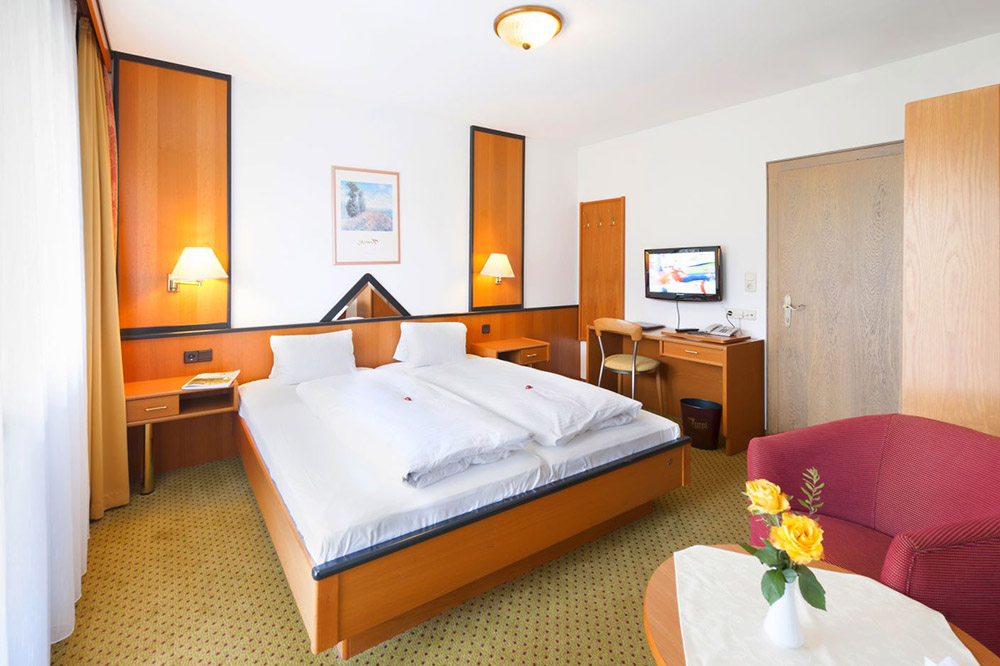 Relax – feel well – enjoy your holidays! In our double rooms standart you will find the perfect conditions for a peaceful sleep and relaxing nights.
---
Our Double Rooms Standard are equipped with:
big comfortable double bed
seating corner with table
view at the tirolean mountains
big balcony
bathroom with tub or shower and toilet, hair dryer

Sat-TV with flat screen, Wi-Fi,

radio, telephone, safe
bathrobes available at the reception
This room offers approx. 19 m2 of space.
---
Prices & Facilities
| Season | From | To | Price |
| --- | --- | --- | --- |
| Sommer 5 | 2023-09-17 | 2023-10-22 | €180.00 |
| Winter 1 | 2023-12-16 | 2023-12-25 | €300.00 |
| Winter 2 | 2023-12-25 | 2024-01-06 | €340.00 |
| Winter 3 | 2024-01-06 | 2024-01-20 | €270.00 |
| Winter 4 | 2024-01-20 | 2024-02-03 | €290.00 |
| Winter 5 | 2024-02-03 | 2024-03-02 | €300.00 |
| Winter 6 | 2024-03-02 | 2024-03-11 | €290.00 |
| Winter 7 | 2024-03-11 | 2024-04-01 | €270.00 |
| Sommer 1 | 2024-05-09 | 2024-05-29 | €193.00 |
| Sommer 2 | 2024-05-29 | 2024-06-29 | €201.00 |
| Sommer 3 | 2024-06-29 | 2024-08-18 | €213.00 |
| Sommer 4 | 2024-08-18 | 2024-09-22 | €201.00 |
All prices for 2 persons/day, halfboard included
Tyrol-servies of your half board reservation:
• Welcome cocktail in the hotel bar (Sundays)
• Breakfast buffet (hot and cold) with organic corner
• 4-course evening meal with choice of 3 main dishes (one vegetarian)
• Daily salad buffet
• 2 x weekly starter buffet
• 1 x weekly gala dinner / Chefs Dinner
• 1 x weekly dessert buffet
• 3 x weekly skier's snack (winter only)
• 1 coffee and cake (summer only)
• Tyrolean  or Austria evening (summer only)
• "Kaiser Spa"  TYROL
Bathhouse with indoor pool 71m ² of water surface, bio sauna, brine steam bath,
exclusive pine sauna, infrared cabin and "Erlebnis" shower;
(daily in winter, according to notice in summer)
• Heated outdoor pool with 74m² of water surface (summer only)
• Children playroom,
• Gym with cardio equipment
• Table tennis in the "Landhaus"
• Bathrobes available at the reception
• Ski bus stop at the hotel
• Location: only 3 minutes' walk from the town center
---